BennyFit is proud to offer online training to get you strong and healthy!
Save money, workout on your own schedule and follow your very own bespoke programme to get YOU to YOUR goals.
Get strong with the knowledge of BennyFit writing out your workouts for you every week, safely and effectively progressing.
Stay healthy with our recommendations for nutrition, and reach your full potential.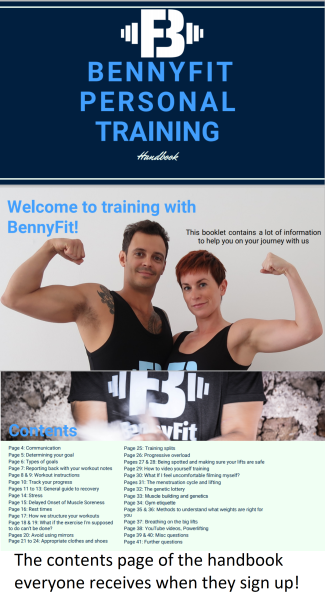 After filling out the application form below, you will be booked in for an initial consultation. A mock routine will be put together for you to go through based on your ability and your goals.
When you sign up with us, you receive a 41 page booklet on everything we advise, from why we structure your workouts in certain ways to appropriate shoes in the gym. You will also receiveg a 10 page bonus booklet on nutrition and supplentation. These cover all the basics and will help you on your amazing journey with us.
Ideally you will get some video footage (where possible) of you going through the routine. This is important as we can then critique your form, and if required, change your routine to suit you better.
You will have email and facebook support 24/7 for up to 3 questions per week.

You will be booked in for a 30 minute check in per week where we check in and see how you're getting on, and you can ask any questions.
You will have video instruction of every exercise we set you with our ever-expanding YouTube library.
You will get recommendations on your nutrition, with different methods for different peoples personalities and goals.
Online training is 250 upfront for 8 weeks. Once you have completed 8 weeks, you have the following options:

- Once a week check-ins which costs 30 a week
- Once every 2 week check-ins which costs 25 a week
- Once every month check-in which costs 20 a week
We will advise you on what will be the best option for you based on your experience, your ability and your discipline, ultimately it will be your choice though.
Now, let's fill out the application and get the ball rolling!